Ten facts about me: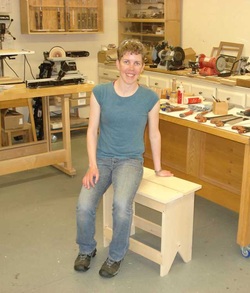 I am a writer at heart. I earned a degree in Professional Writing, have been published in magazines, maintain several writing blogs, and may one day write a book. We'll see!

I adore words. I collect quotations, consider my thesaurus a dear friend, and will happily spend hours tinkering with a piece of writing until each word captures the exact meaning I'm looking for.
I am an unabashed bookworm. My library card is the most used piece of plastic in my purse. I have been known to burn through eight or more books in a single month!
I am a local history buff, so much so that I started my own Prince George history web site, Northern Faces, Northern Places. I also sit on the City of Prince George Heritage Commission.
I custom frame artwork for friends and family, an activity I picked up in 2014, and I'm now building my own picture frames. Check out my custom framing portfolio. If you like my work, let me know!
I am a budding woodwoorker -- a long-time interest finally realized! Stay tuned to Caroline Ross Creative for more about this journey.

I dabble in photography. I particularly enjoy capturing the energy of live sporting events. Check out my images of hockey, ringette, cycling, equestrian and more on my photography website crossphoto.ca.
I create and maintain basic web sites for local non-profit organizations, a service I began providing in 2013. Sometimes I also help small businesses establish their first web sites or revamp old ones. Have a look at my web site development portfolio.
I am a Prince George native, born and raised. I have also lived in Victoria, BC, and Ottawa, Ontario. Moving back to Prince George was one of the best things I've ever done.

I find peace in the outdoors. Nature is my sanctuary, and I enjoy hiking, paddling and spending time in quiet, serene landscapes.
---
My affiliations: